Our Team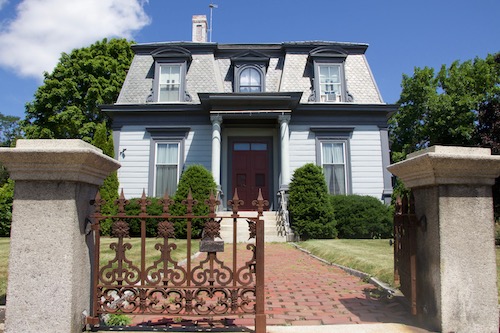 Adams Real Estate, "Known, Liked and Trusted" since 1995, is a family owned business located in Bangor, Maine. Our team of professional REALTORS has combined experience of over 61 years, offering seller representation and buyer representation in the Greater Bangor Area. We are members of the Greater Bangor Association of REALTORS, as well as the National Association of REALTORS. We have a thorough knowledge of surrounding communities, and will put our expertise to work for you through finding the right home to fit your needs, or selling your home quickly and at a cost you're satisfied with.
Our agents have experience with the following properties: waterfront, residential, single family, apartments, owner-occupied multi family, condos, farms, mobile homes, manufactured and modular homes, foreclosures, VA, HUD Homes, commercial, timberland, and recreational land. We specialize in Hancock, Penobscot, and Waldo County, but will help you search all over Maine for the right property.
To learn more about our real estate team, read our agent bios below or take a look at our testimonials to see what our clients say about their home buying or selling experience with Adams Real Estate. Browse our website, and if you have any questions, feel free to contact us—we'd love to hear from you!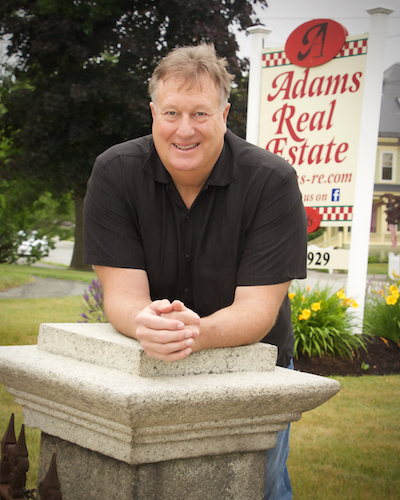 Phil Adams
I have been selling real estate in the Greater Bangor Area since 1989. In that time I have worked for Century 21 and opened Adams Real Estate with my father and mother in 1995. I am currently the Broker/Owner of Adams Real Estate which is located at 186 State Street in Bangor. Our office is registered in the national register of Historic places as the "Charles Roberts" house.
I am a father of three children and have been married to my wife Kimberly Blum Adams for 28 years. Over the years I have coached various youth sports while my children were active in sports during different levels of education. I am a past member of the Brewer Kiwanis Club and graduated from Brewer High School in 1977. I grew up in Eddington and have spent most of my life in the state of Maine other than attending and graduating from Eckerd College in Florida and working and living in Burlington, Vermont for two years. While in high school and college, I enjoyed playing different sports but these days I enjoy playing golf and actually recorded my first "hole in one" last year at Penobscot Valley Country Club.
I am a Realtor with 30 years of experience and I am an active member of the Bangor Board of Realtors. I have participated in all phases of Real Estate and I can be described as Dedicated, Dependable, and Disciplined. The client's goals are the most important objective. My experience, knowledge and High Ethical Standards will always prevail in the client's best interest.
---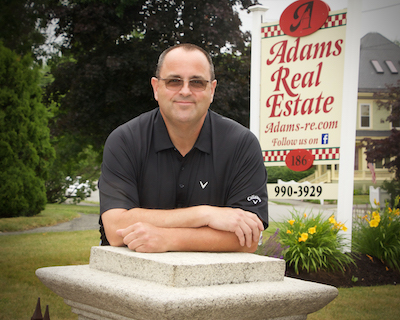 Dennis Theriault
I am a fulltime licensed REALTOR. I strive to be #1 meeting my clients needs, by paying attention to the details and treating my clients as VIPs.
Having lived in the Bangor and Downeast areas of Maine, I am very familiar with the current market conditions, neighborhoods, and rural community life. My organizational and time management skills allow me to keep in contact with my clients. I promise to keep you informed by checking in with you regularly with updates or any feedback.
Integrity and honesty are very important attributes to me; and I want you to know that you can depend on me to solve problems and get the job done for you. No detail is too small, and not stone will be left unturned.
I would love to represent you as a REALTOR as either a seller, buyer or both to show you my commitment, work ethic, and integrity in the work I do. I commit my best efforts to representing your real estate needs and protecting your financial interests.
---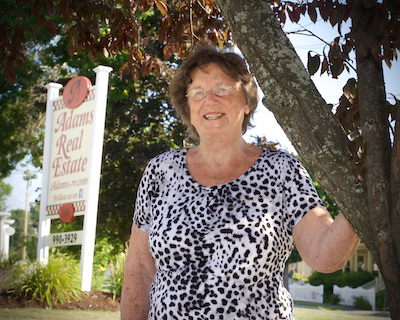 Hilma Adams
Just a little about myself. I am Hilma H. Adams, Phil's mother Dennis aunt. After my early retirement, 31 years with the Telephone Company, I felt at loss and without purpose. I tried caring for seniors for about two years. I cared for and lost a few patients and decided that Elderly Care was not for me. My son, David remarked that I always liked houses. Saying, "You and dad built our house; why don't you go in to real estate?" I got my license November 29, 1990.
I got my first full time summer job when I was 12 years old as a waitress and chamber maid at a Bed and Breakfast in Salisbury Cove. Yes, that means I have worked 71 years! I continued this type of work and many other jobs each summer. When I was 14, I papered my bedroom and decorated it all by myself. I loved houses then and I love houses now. Through my high school years, I lived with other families and worked my board and room.
Today, I can truly say being in Real Estate is the most fulfilling and satisfying time of my life. To assist a family in the purchase of, the closing of, and the moving in to a home of their own is the biggest thrill of all.